My Blog
Posts for tag: braces
By Paul A. Guidi, DMD, PA
December 06, 2019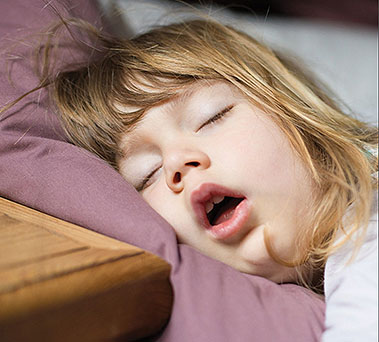 Breathing: You hardly notice it unless you're consciously focused on it—or something's stopping it!
So, take a few seconds and pay attention to your breathing. Then ask yourself this question—are you breathing through your nose, or through your mouth? Unless we're exerting ourselves or have a nasal obstruction, we normally breathe through the nose. This is as nature intended it: The nasal passages act as a filter to remove allergens and other fine particles.
Some people, though, tend to breathe primarily through their mouths even when they're at rest or asleep. And for children, not only do they lose out on the filtering benefit of breathing through the nose, mouth breathing could affect their dental development.
People tend to breathe through their mouths if it's become uncomfortable to breathe through their noses, often because of swollen tonsils or adenoids pressing against the nasal cavity or chronic sinus congestion. Children born with a small band of tissue called a tongue or lip tie can also have difficulty closing the lips or keeping the tongue on the roof of the mouth, both of which encourage mouth breathing.
Chronic mouth breathing can also disrupt children's jaw development. The tongue normally rests against the roof of the mouth while breathing through the nose, which allows it to serve as a mold for the growing upper jaw and teeth to form around. Because the tongue can't be in this position during mouth breathing, it can disrupt normal jaw development and lead to a poor bite.
If you suspect your child chronically breathes through his or her mouth, your dentist may refer you to an ear, nose and throat (ENT) specialist to check for obstructions. In some cases, surgical procedures to remove the tonsils or adenoids may be necessary.
If there already appears to be problems brewing with the bite, your child may need orthodontic treatment. One example would be a palatal expander, a device that fits below the palate to put pressure on the upper jaw to grow outwardly if it appears to be developing too narrowly.
The main focus, though, is to treat or remove whatever may be causing this tendency to breathe through the mouth. Doing so will help improve a child's ongoing dental development.
If you would like more information on treating chronic mouth breathing, please contact us or schedule an appointment for a consultation. You can also learn more about this topic by reading the Dear Doctor magazine article "The Trouble With Mouth Breathing."
By Paul A. Guidi, DMD, PA
September 27, 2019
Sometimes, looking at old pictures can really bring memories back to life. Just ask Stefani Germanotta—the pop diva better known as Lady Gaga. In one scene from the recent documentary Five Foot Two, as family members sort through headshots from her teen years, her father proclaims: "Here, this proves she had braces!"
"If I had kept that gap, then I would have even more problems with Madonna," Lady Gaga replies, referencing an ongoing feud between the two musical celebrities.
The photos of Gaga's teenage smile reveal that the singer of hits like "Born This Way" once had a noticeable gap (which dentists call a diastema) between her front teeth. This condition is common in children, but often becomes less conspicuous with age. It isn't necessarily a problem: Lots of well-known people have extra space in their smiles, including ex-football player and TV host Michael Strahan, actress Anna Paquin…and fellow pop superstar Madonna. It hasn't hurt any of their careers.
Yet others would prefer a smile without the gap. Fortunately, diastema in children is generally not difficult to fix. One of the easiest ways to do so is with traditional braces or clear aligners. These orthodontic appliances, usually worn for a period of months, can actually move the teeth into positions that look more pleasing in the smile and function better in the bite. For many people, orthodontic treatment is a part of their emergence from adolescence into adulthood.
Braces and aligners, along with other specialized orthodontic appliances, can also remedy many bite problems besides diastema. They can correct misaligned teeth and spacing irregularities, fix overbites and underbites, and take care of numerous other types of malocclusions (bite problems).
The American Association of Orthodontists recommends that kids get screened for orthodontic problems at age 7. Even if an issue is found, most won't get treatment at this age—but in some instances, it's possible that early intervention can save a great deal of time, money and effort later. For example, while the jaw is still developing, its growth can be guided with special appliances that can make future orthodontic treatment go quicker and easier.
Yet orthodontics isn't just for children—adults can wear braces too! As long as teeth and gums are healthy, there's no upper age limit on orthodontic treatment. Instead of traditional silver braces, many adults choose tooth-colored braces or clear aligners to complement their more professional appearance.
So if your child is at the age where screening is recommended—or if you're unhappy with your own smile—ask us whether orthodontics could help. But if you get into a rivalry with Madonna…you're on your own.
If you have questions about orthodontic treatment, please contact our office or schedule a consultation. You can read more in the Dear Doctor magazine articles "The Magic of Orthodontics" and "Orthodontics For The Older Adult."
By Paul A. Guidi, DMD, PA
July 24, 2018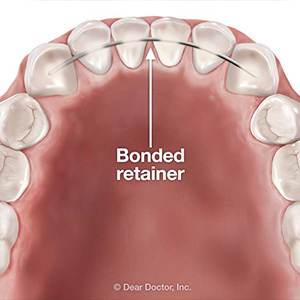 A lot of time and effort goes into straightening your smile. But there's a possibility it might not stay that way—and all that hard work could be lost. The same natural mechanism that enables your teeth to move with braces could cause them to revert to their old, undesirable positions.
So for a little while (or longer for some people) you'll need to wear a retainer, an appliance designed to keep or "retain" your teeth where they are now. And while the removable type is perhaps the best known, there's at least one other choice you might want to consider: a bonded retainer.
Just as its name implies, this retainer consists of a thin metal wire bonded to the back of the teeth with a composite material. Unlike the removable appliance, a bonded retainer is fixed and can only be removed by an orthodontist.
Bonded retainers have several advantages. Perhaps the most important one is cosmetic—unlike the removable version, others can't see a bonded retainer since it's hidden behind the teeth. There's also no keeping up with it—or losing it—since it's fixed in place, which might be helpful with some younger patients who need reminding about keeping their retainer in their mouth.
There are, however, a few disadvantages. It's much harder to floss with a bonded retainer, which could increase the risks of dental disease. It's also possible for it to break, in which case it will need to be repaired by an orthodontist and as soon as possible. Without it in place for any length of time the teeth could move out of alignment.
If you or a family member is about to have braces removed, you'll soon need to make a decision on which retainer to use. We'll discuss these options with you and help you choose the one—removable or bonded—that's right for you.
If you would like more information on bonded retainers, please contact us or schedule an appointment for a consultation. You can also learn more about this topic by reading the Dear Doctor article "Bonded Retainers: What are the Pros and Cons?"