My Blog
Posts for tag: missing teeth
By Paul A. Guidi, DMD, PA
May 25, 2018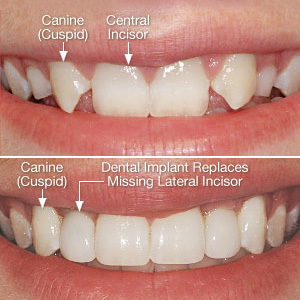 When you look at the top row of a normal smile, you'll see symmetrical pairs: the central incisors in the middle, flanked by the lateral incisors and the canine (or eye) teeth on the outside of them.
Sometimes, though, teeth may not form as they should: in fact, it's one of the more common congenital defects with one in five people having missing or deformed teeth, often the upper lateral incisors. In the latter case, it's not uncommon for the eye teeth to drift into the missing lateral incisors' spaces next to the central incisors. This creates a smile even a layperson can tell is off.
There is a way to treat this with orthodontics and cosmetic dentistry that will transform that person's smile while restoring better mouth function too. It's often a long process, however, that's best begun early and must be precisely timed with dental development.
Using braces, we move the drifted teeth back to their proper positions, which will make room for a future dental restoration. It's usually best to begin this treatment during late childhood or early adolescence. The next step is to fill the newly-created space with prosthetic (false) teeth.
Dental implants are an ideal choice since they're durable and life-like, and won't require permanent alteration of adjacent teeth. They do, however, require a certain amount of bone volume at the site to support them; if the volume is insufficient we may have to place a bone graft to stimulate new growth.
It's also best not to install implants until the jaw has finished development, usually in the late teens or early adulthood. In the interim between tooth repositioning and implants we can customize a retainer or other removable appliance with a false tooth to occupy the space. This not only enhances the smile, it also prevents the repositioned teeth from drifting back.
These steps toward achieving a new smile take time and sometimes a team of specialists. But all the effort will be rewarded, as a person born without teeth can have a new smile and improved oral health.
If you would like more information on treating dental development deficiencies, please contact us or schedule an appointment for a consultation. You can also learn more about this topic by reading the Dear Doctor magazine article "When Permanent Teeth Don't Grow."
By Paul A. Guidi, DMD, PA
May 11, 2017
There are plenty of options today for replacing missing teeth, including dental implants. But if the teeth have been missing for some time, complications can arise that limit your restorative options.
The most consequential possibility is bone loss. Bone has a life cycle: old cells dissolve (resorb), and are then replaced by new cells, stimulated to grow by the forces applied to the teeth during chewing. But the bone won't receive this stimulation if a tooth is missing — so growth slows down, which causes the bone volume to diminish with time.
Another complication can occur involving other teeth around the open space. These teeth will naturally move or "drift" out of their normal position into the missing tooth space. As a result we may not have enough room to place a prosthetic (false) tooth.
If either or both of these complications occur, we'll need to address them before attempting a restoration. Bone loss itself could eliminate dental implants as an option because they require a certain amount of supporting bone for correct placement. Bone loss could also make correcting misaligned teeth difficult if not impossible.
It might be possible, though, to regenerate lost bone with a bone graft. The graft is placed, sometimes along with growth stimulating substances, within the diminished bone area. It then serves as a scaffold upon which new bone can form.
If the bone becomes healthy again, we can then attempt to move any drifted teeth back to where they belong. Besides braces, there's another treatment option especially popular with adults: clear aligners. These are a series of removable, clear plastic trays that, like braces, exert gradual pressure on the teeth to move them. Patients wear each individual tray for about two weeks, and then switch to the next tray in the series to continue the process.
Unlike their traditional counterparts, clear aligners can be removed for cleaning or for special occasions. More importantly, they're much less noticeable than traditional braces.
Once any problems with bone health or bite have been addressed and corrected, you'll have a fuller range of options for replacing your missing teeth. With a little extra time and effort, you'll soon be able to regain a smile you'll be proud to display.
If you would like more information on dental restoration, please contact us or schedule an appointment for a consultation.