My Blog
Posts for tag: tooth decay
By Paul A. Guidi, DMD, PA
October 27, 2019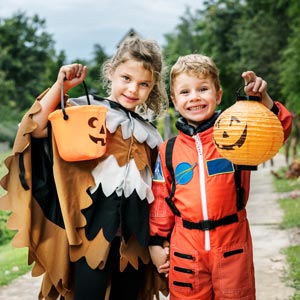 $9.1 billion: That's how much we Americans spent in 2018 on Halloween festivities, according to the National Retail Federation. And a sizeable chunk of that was for candy—a whopping 600 million pounds worth. That, my friends, is a lot of sugary goodness. For kids, it's what Halloween is all about—scoring a sack full of sticky, gooey, crunchy candy. For parents, though, all that sugar raises concerns for their kids' dental health.
That's because of something that loves sugar as much as little humans: oral bacteria. The more these microscopic creatures consume, the more they reproduce, which consequently leads to more mouth acid, a by-product of their digestion. Elevated acid levels can dissolve the mineral content in enamel and create the conditions for tooth decay.
To cut to the chase, excessive candy consumption increases the risk of tooth decay. Short of banning candy and ruining your kids' holiday fun, what then can you do to lower that risk this Halloween?
Here are a few tips:
Limit candy to mealtimes. The mouth's acid levels tend to rise while we're eating. The body counters with saliva, which has the capacity to neutralize acid and restore lost minerals to enamel. But if your kids are snacking on sweets over a long period, saliva can't get ahead of the recurring waves of acid. So, try to limit your kids' candy consumption to a few pieces at mealtimes only.
Don't brush right after eating candy. The short period during and after eating of high acid levels can still soften tooth enamel. If your child brushes soon after eating candy, they could also remove tiny bits of softened enamel. Instead, wait at least 30 minutes to an hour before brushing to allow saliva time to remineralize the enamel.
Encourage alternatives to candy as Halloween treats. While candy is a huge part of Halloween, it needn't have a monopoly on all the celebratory fun. So, encourage your little tricksters to accept—and their treaters to provide—other kinds of treats like small toys, glow sticks, or other items that count as treasure to children (be sure they're age-appropriate, though).
Halloween is a great time of family fun, and candy may always play a prominent role in the merriment. Just be sure to practice moderation with sweet Halloween treats to avoid dental problems down the road.
If you would like more information about how to manage your family's sugar consumption for optimum dental health, please contact us or schedule a consultation. To learn more, read the Dear Doctor magazine articles "The Bitter Truth About Sugar" and "Nutrition & Oral Health."
By Paul A. Guidi, DMD, PA
May 15, 2018
When your baby's first teeth come in, you might not think it necessary yet to worry about tooth decay. But even infants can develop this common dental disease. In fact, it has a specific name in children 6 and under: early childhood caries (ECC).
About one-fourth of U.S. children have ECC, and poor or minority children are at highest risk. Because of primary ("baby") teeth's thin enamel layer, ECC can spread to healthier teeth with unnerving speed, causing extensive damage.
While such damage immediately affects a child's nutrition, speech development and self-esteem, it could also impact their future oral health. Permanent teeth often erupt out of position because of missing primary teeth lost prematurely, creating a poor bite. And children with ECC are more likely to have cavities in their future permanent teeth.
While there are a number of effective treatments for repairing ECC-caused damage, it's best to try to prevent it before damage occurs. A large part of prevention depends on you. You should, for example, begin oral hygiene even before teeth come in by wiping their gums with a clean, damp cloth after feeding. After teeth appear, switch to daily brushing with just a smear of toothpaste.
Because refined sugar is a primary food source for decay-causing bacteria, you should limit it in their diet. In the same vein, avoid sleep-time bottles with fluids like juices, milk or formula. As they grow older, make sure snacks are also low in sugar.
You should also avoid spreading your own oral bacteria to your baby. In this regard, don't put their eating utensils or pacifier in your mouth and don't drink from the same cup. Avoid kissing your baby on the lips. And above all, take care of your own oral health to prevent your own encounter with dental disease.
Finally, start regular dental visits on or before your baby's first birthday. Regular cleanings and checkups increase the chances for early decay detection, as well as provide for treatments and prevention measures that can reduce the disease's spread and destruction.
ECC can be devastating to both your baby's current and future dental health. But with vigilance and good dental practices, you may be able to help them avoid this serious disease.
If you would like more information on tooth decay prevention in young children, please contact us or schedule an appointment for a consultation.
By Paul A. Guidi, DMD, PA
October 12, 2016
Cavities can happen even before a baby has his first piece of candy. This was the difficult lesson actor David Ramsey of the TV shows Arrow and Dexter learned when his son DJ's teeth were first emerging.
"His first teeth came in weak," Ramsey recalled in a recent interview. "They had brown spots on them and they were brittle." Those brown spots, he said, quickly turned into cavi­ties. How did this happen?
Ramsey said DJ's dentist suspected it had to do with the child's feedings — not what he was being fed but how. DJ was often nursed to sleep, "so there were pools of breast milk that he could go to sleep with in his mouth," Ramsey explained.
While breastfeeding offers an infant many health benefits, problems can occur when the natural sugars in breast milk are left in contact with teeth for long periods.  Sugar feeds decay-causing oral bacteria, and these bacteria in turn release tooth-eroding acids. The softer teeth of a young child are particularly vulnerable to these acids; the end result can be tooth decay.
This condition, technically known as "early child caries," is referred to in laymen's terms as "baby bottle tooth decay." However, it can result from nighttime feedings by bottle or breast. The best way to prevent this problem is to avoid nursing babies to sleep at night once they reach the teething stage; a bottle-fed baby should not be allowed to fall asleep with anything but water in their bottle or "sippy cup."
Here are some other basics of infant dental care that every parent should know:
Wipe your baby's newly emerging teeth with a clean, moist washcloth after feedings.
Brush teeth that have completely grown in with a soft-bristled, child-size toothbrush and a smear of fluoride toothpaste no bigger than a grain of rice.
Start regular dental checkups by the first birthday.
Fortunately, Ramsey reports that his son is doing very well after an extended period of professional dental treatments and parental vigilance.
"It took a number of months, but his teeth are much, much better," he said. "Right now we're still helping him and we're still really on top of the teeth situation."
If you would like more information on dental care for babies and toddlers, please contact us or schedule an appointment for a consultation. You can also learn more by reading the Dear Doctor magazine articles "The Age One Dental Visit" and "Dentistry & Oral Health for Children."